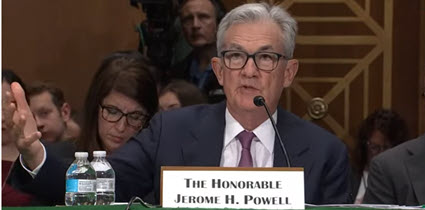 Federal Reserve Chairman Jerome Powell testified this week before congressional committees on the state of the economy, identifying commercial real estate as an area the central bank is "very focused on" as the office sector faces significant pressures from declining demand and remote work issues.
Banks & CRE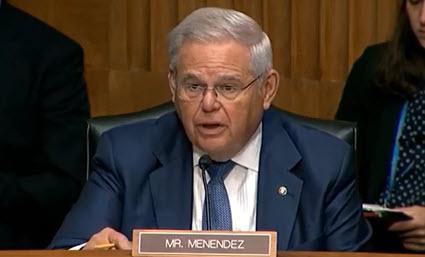 During the Senate hearing, committee member Bob Menendez (D-NJ) said he was concerned CRE mortgages could be "a ticking time bomb" for many banks as office property values decline and interest rates increase. Powell noted, "We're being pretty proactive about reaching out to these institutions and trying to help them get through these significant issues." Click on video clip above to watch the Menendez-Powell exchange or scroll to :31:33 in the full Senate hearing.


In his opening remarks, House Financial Services Committee Chairman Patrick McHenry (R-NC) stated, "Now we are told these (bank) runs represent a systemic threat to the stability of our financial system. Add in the commercial real estate exposure facing financial institutions and it becomes very easy to understand the mounting anxiety of consumers and job creators. I share in that anxiety." (Scroll to 1:44 in the House hearing)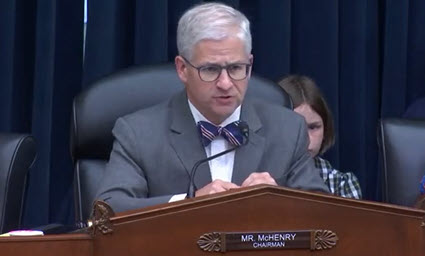 McHenry, above, also warned, "... a massive increase in capital standards for medium and large institutions... would limit banks' ability to lend money, exacerbating the looming credit crunch, and starving families and small businesses of the capital they need." (The Roundtable wrote to federal regulators on March 17 about the importance of not engaging in pro-cyclical policies such as requiring financial institutions to increase capital.)


Rep. Young Kim (R-CA) asked Powell during the House hearing if the Fed is thinking about policies that could provide time for refinancing commercial real estate loans—a position strongly advocated by The Real Estate Roundtable. Powell answered, "There's a playbook for working your way out of these loans. And it's particularly in the office sector where work from home is still a material factor in some areas." (Scroll to 1:26:04 in the House hearing for Kim-Powell exchange)


On June 16, a statement from the Financial Stability Oversight Council—which includes the heads of the Federal Reserve, the Treasury Department, and the Securities and Exchange Commission—addressed the results of their recent meeting where potential risks in the CRE market were on the agenda. The group commented, "Regulators are taking steps to emphasize risk management and examine exposures to CRE loans at their regulated institutions."
Roundtable Response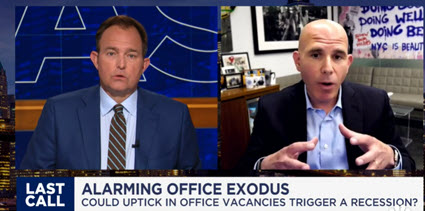 On June 21, CNBC's Last Call interviewed Roundtable Board Member Scott Rechler, above right, (Chief Executive Officer and Chairman, RXR) on how a rise in office vacancies could have sweeping implications for the economy. Roundtable Board Member Barry Sternlicht (Chairman and CEO, Starwood Capital Group) joined CNBC's Squawk Box on June 22 for a discussion about the Fed's inflation fight and commercial real estate.
The dropping value of various investments, including offices that provide crucial property taxes to fund municipalities, were the focus of a June 20 Wall Street Journal report "Wall Street Sours on America's Downtowns."


Real Estate Roundtable President and CEO Jeffrey DeBoer recently remarked on The Roundtable's Q2 Sentiment Index findings and the role federal regulators can play as CRE faces these significant market developments. "Federal financial institution regulators must act quickly to provide greater supervisory flexibility—as they did in 2009, 2020, and 2022—to allow lenders and borrowers to responsibly restructure the large amount of maturing commercial real estate loans," DeBoer said. (Roundtable Weekly, June 9)

"Businesses and individuals need more time to transition their space needs to the post-pandemic economy. Greater certainty in demand will allow commercial real estate markets, particularly the office sector, to stabilize and revert to its dominant position as the source for local budget revenue. In addition to regulatory flexibility, positive public and private action to encourage in-person, return-to-work policies is needed, where appropriate. As some buildings will need to be reimagined entirely, policy reforms are needed to encourage those buildings to convert to other uses such as housing," DeBoer added.

# # #