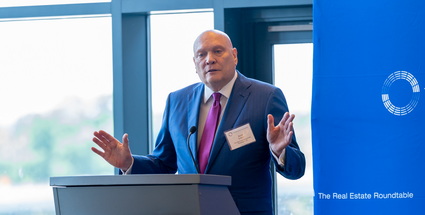 In a positive development for the commercial real estate industry, federal regulatory agencies issued a joint policy statement yesterday on CRE loan accommodations and workouts that calls for "financial institutions to work prudently and constructively with creditworthy borrowers during times of financial stress." (Agencies' joint statement, June 29)
Real Estate Roundtable President and CEO Jeffrey DeBoer, above, said, "We enthusiastically welcome and applaud the action of federal regulators to accommodate commercial real estate borrowers and lenders as the industry endures a time of historic, post-pandemic transition. Maturing office loans in particular face a new environment of higher operating and financing costs, much tighter bank lending requirements, and uncertainty in business space needs. This major step forward by federal regulators provides the flexibility that The Roundtable has consistently encouraged, and the relief many in the industry need, as the economy and communities struggle to move beyond the repercussions of the global pandemic."
CRE Relief
This significant action fulfills recent Real Estate Roundtable requests for regulators to provide more supervisory flexibility that would allow for the responsible restructuring of maturing CRE loans. The guidance is expected to encourage debt restructuring for certain office assets under pressure from remote work, high interest rates, and post-pandemic demand. (Roundtable Weekly, May 11 | Roundtable letter to regulators, March 17)


The June 29 joint agency statement was issued by the Office of the Board of Governors of the Federal Reserve System (the Fed), the Comptroller of the Currency (OCC), Federal Deposit Insurance Corporation (FDIC), and National Credit Union Administration (NCUA).


The agencies noted that their policy statement builds on existing supervisory guidance issued in 2009, updates existing interagency supervisory guidance on commercial real estate loan workouts, and adds a section on short-term loan accommodations.


The new section on accommodations includes an agreement to defer one or more payments, make a partial payment, or provide other assistance or relief to a borrower who is experiencing a financial challenge. The statement also addresses recent accounting changes for estimating loan losses and provides examples of how to classify and account for loans affected by workout activity. (See 90-page policy statement on "Prudent Commercial Real Estate Loan Accommodations and Workouts")


Approximately $1.5 trillion in CRE mortgages will mature in the next three years were originally financed when base rates were near zero. Refinancing this wave of maturing loans is complicated by the current debt environment, characterized by much higher interest rates, uncertain asset values, and illiquid capital markets.
CRE Part of Fed Stress Test
This week, the Federal Reserve also released the results of its annual bank stress tests, which included a severe hypothetical scenario of global recession, a 40% decline in commercial real estate prices, a substantial increase in office vacancies, and a 38% decline in house prices. The Fed noted the stress test focus on CRE illustrates that 23 large banks would be able to continue lending in the hypothetical scenario, despite heavy losses. (2023 Fed stress test results and CNBC, June 28)


"Today's results confirm that the banking system remains strong and resilient," Vice Chair for Supervision Michael S. Barr said. "At the same time, this stress test is only one way to measure that strength. We should remain humble about how risks can arise and continue our work to ensure that banks are resilient to a range of economic scenarios, market shocks, and other stresses." (Fed news release, June 28)


The 2023 adverse test scenario model stated that declines in CRE prices should be assumed to be concentrated in properties most at risk of a sustained drop in income and asset values—offices that may be affected by remote work or hospitality sectors that continue to be affected by reduced business travel.


The Fed's stress test report added, "The May 2023 Financial Stability Report highlighted elevated prices on CRE and the possibility of a large correction in property values that could lead to substantial losses for banks. The demand for offices, downtown retail, and hotels has seen dramatic and countervailing changes over the past several years due largely to the pandemic and resulting changes. While many bank CRE loans are held by smaller banks not subject to the supervisory stress test, the banks subject to the stress test hold approximately 20% of office and downtown retail CRE loans."


"We need to consider whether examiners have the appropriate tools and support to identify important issues and demand prompt remediation," Bowman stated. "Increasing capital requirements simply does not get at this underlying concern about the effectiveness of supervision." She added, "It is abundantly clear that regulatory and supervisory reform is on the way." (Bowman speech and Bloomberg, June 25)
# # #