The Biden administration issued new guidance this week that gives local and state governments greater flexibility when using their share of $350 billion in COVID-19 federal relief funds for affordable housing. The changes are in line with the administration's recent Housing Supply Action Plan, which aims to boost the supply of affordable housing in communities throughout the nation. (Treasury Dept. news release, July 27 and Roundtable Weekly, May 20)
Expanded Use of Pandemic Funds
The Treasury guidance allows a portion of the Coronavirus funds dedicated to state and local recovery to finance long-term affordable housing loans, including low-income housing tax credit (LIHTC) projects. (Affordable Housing Finance, July 27, 2022 and Roundtable Weekly, March 12, 2021)


Treasury has also updated its guidance to clarify two "presumptively eligible" ways to use the pandemic rescue funds for affordable housing. (Treasury Dept., How to Use State and Local Fiscal Recovery Funds for Affordable Housing Production and Preservation)


The National Council of State Housing Agencies reported, "The new guidance, which is effective immediately, allows states and localities to make long-term loans to affordable housing developments, as long as units are targeted to tenants earning 65% of the area median income or lower for a minimum of 20 years."
How-To Guide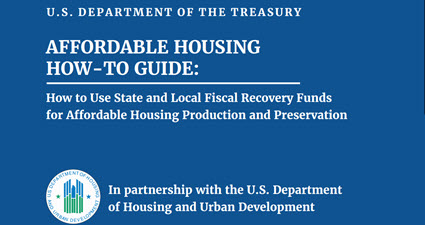 Treasury and the Department of Housing and Urban Development have also jointly published a "How-To" Guide to show governments ways of combining pandemic aid with other sources of federal funding.


According to the guide, recipients of Coronavirus State and Local Fiscal Recovery Funds (SLFRF) can "acquire properties that will be transitioned into affordable housing for households that experienced the negative economic impacts of the pandemic. This could include acquisition of market rate rental properties, motels, or commercial properties that will be converted to affordable housing, or acquisition and preservation of publicly supported affordable housing."


SLFRF may also be used to "finance retrofits and weatherization of properties to improve energy efficiency, potentially by leveraging new federal funding such as the Department of Energy's Weatherization Assistance Program, or infrastructure resources."


Over the coming months, Treasury plans to conduct a series of webinars and briefings with states, local governments, nonprofits, and private sector entities involved in the development and preservation of affordable housing.
Multifamily Response
The National Multifamily Housing Council (NMHC) and National Apartment Association (NAA) applauded the flexibility provided by the new guidance.


NMHC also unveiled new research this week showing the need for the U.S. to produce 4.3 million more apartments by 2035 to address the underbuilding of housing after the 2008 financial crisis.
In conjunction with the study's release, the website www.WeAreApartments.org breaks down the data by each state and 50 key metro areas.
# # #