Lieutenant Colonel (Ret.) Alexander Vindman, Senior Advisor of VetVoice Foundation, today discussed the conflict in Ukraine during a Real Estate Roundtable virtual town hall. In recent years, Vindman served on the White House's National Security Council as the Director for Eastern Europe, the Caucasus, and Russia. (Watch video discussion)
Focus on Ukraine
Vindman and Roundtable President and CEO Jeffrey DeBoer addressed Ukraine in the context of Democracy vs. Authoritarianism, the spillover effects of the war, and the need for a future international reconstruction effort.
"It's a geopolitical earthquake that has unfolded over the past year, culminating in a war between the largest country in the world and the largest country in Europe," Vindman stated.
In addition to the devastating human and physical destruction, the war's spillover effects include interruptions to the supply of crucial commodities such as neon and titanium, and food supplies for the Middle East and Africa.
"The longer this war continues, the greater the chance of spillover," Vindman said, citing the Russian attack on a Ukrainian nuclear power plant, and the potential use of cyberwarfare and chemical weapons.
He added the war's eventual outcome will be a significant setback to Authoritarianism – and that the West should keep a door open for a reconciliation with Russia after Putin is gone.
Vindman and DeBoer also discussed the need for an enormous reconstruction effort, which Vindman said could amount to $100 billion international fund that could take the form of a public-private partnership. (Watch video discussion)
Roundtable members can support Ukraine against the Russian invasion via the VetVoice Foundation.
U.S. Support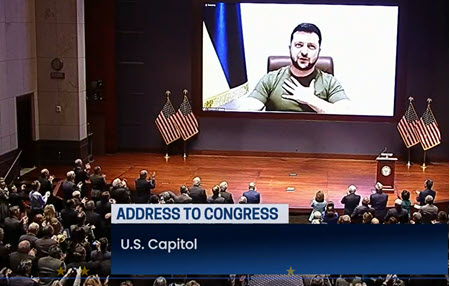 Since the invasion of Ukraine began, over 450 U.S. companies have announced their withdrawal from Russia, shutting down 25% of Russia's gross domestic product (GDP), according to Professor Jeffrey Sonnenfeld at the Yale Chief Executive Leadership Institute. Sonnenfeld's research team maintains a list

of companies that have either withdrawn from Russia completely, suspended or scaled back operations, or delayed investments. (

Fortune

, March 16)

Many American Hotel & Lodging Association members, including Hilton and Marriott International, recently announced donations for humanitarian aid; the closure of their corporate offices in Moscow; and a suspension all future hotel development and investment in Russia. (TravelPulse, March 21 and Roundtable Weekly, March 18)
White House CyberSecurity Warning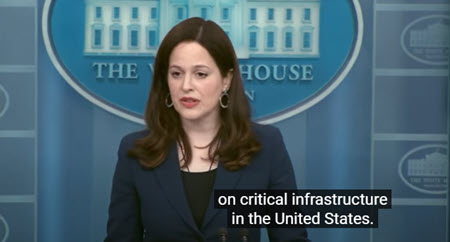 President Joe Biden alerted U.S. business leaders on March 21 that "based on evolving intelligence, Russia may be planning a cyberattack against us." Biden added, "[I]t's a patriotic obligation for you to invest as much as you can in making sure ... you have built up your technological capacity to deal ... with cyberattacks." (Remarks by President Biden | White House Statement | Fact Sheet: Act Now to Protect Against Potential Cyberattacks, March 21)
The growing concern about a possible Russian cyberattack response over U.S. sanctions also led White House Deputy National Security Adviser for Cyber and Emerging Technology Anne Neuberger, above, to clarify that although "there is no certainty" of an attack, Biden's warning was intended to focus attention on "critical infrastructure." (White House Press Briefing video | BGov and Axios, March 21)
The Real Estate Roundtable's Homeland Security Task Force and the Real Estate Information Sharing and Analysis Center (RE-ISAC) continue to work with its members, key law enforcement and intelligence agencies to help manage and mitigate cyber and physical threats to the commercial facilities sector. (Information on joining the RE-ISAC and Roundtable Weekly, March 4)
# # #