California Passes Corporate Climate Disclosure Package; Biden Administration Releases Net-Zero Emissions Principles for Financial Institutions
Recent government actions amplify the increasing focus by policymakers on climate laws and guidelines—and their heightened impact on CRE. The California legislature recently passed first-of-its-kind state laws that require companies to disclose their emissions, beating to the punch anticipated federal climate reporting rules from the U.S. Securities and Exchange Commission (SEC). (Politico, Sept. 17)
Meanwhile, the Biden administration issued voluntary principles this week for asset managers, banks, insurers, and venture capital companies with goals for "net zero" emissions investments, including real estate. (Treasury news release, Sept. 19)
California's Climate Risk Disclosure Package
California's legislature passed two bills (SB 253 and SB 261) last week requiring climate-related disclosures from certain companies doing business in the state. Most notably, the Climate Corporate Data Accountability Act (SB 253) would require entities with total annual global revenues greater than $1 billion to quantify and publicly report Scopes 1, 2, and 3 emissions.
SB 253 is estimated to regulate around 5,400 companies. Gov. Gavin Newsom (D) pledged to sign both bills, although he may request changes when the legislature reconvenes in January. The laws could be challenged in court before they take effect over the next several years. (Wall Street Journal, Sept. 20 and New York Times, Sept 17)
The California legislature "leapfrog[ged]" the U.S. SEC (Bloomberg, Sept. 12), which has yet to release highly anticipated federal rules that are expected to require registered companies to report to investors on material climate-related financial risks in 10-Ks and other filings. (See RER's 2022 comments on SEC proposal | Roundtable Weekly, March 10 and June 10, 2022)
U.S. Treasury's Net-Zero Emissions Investment Principles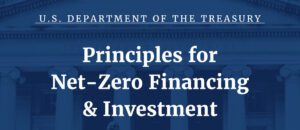 The Treasury Department's Principles for Net-Zero Financing & Investment is focused on "financial institutions' scope 3 financed and facilitated greenhouse gas (GHG) emissions." It urges private sector financial institutions to align their GHG reduction efforts and net-zero goals with their "portfolio companies," "portfolio of assets," and "client base."
The document notes that clients and portfolio companies should provide to their financial institutions their own net-zero plans, including "metrics and targets" for Scopes 1, 2 and 3 emissions. Buildings and real estate assets have long been considered part of a financial institution's Scope 3 emissions "value chain." 
The set of nine principles encourage greater adoption of emerging best practices for private sector financial institutions that have made net-zero commitments, while promoting consistent and credible implementation approaches.
A Sept. 12 podcast featuring Roundtable Senior Vice President & Counsel Duane Desiderio, and Nareit's Senior Vice President of Environmental Stewardship and Sustainability Jessica Long, discusses the imminent SEC rule and other real estate policy priorities in the energy and climate arena. (Listen to Nareit's "Real Estate Roundtable says CRE Playing Key Role in Success of Federal Climate Programs")
#  #  #