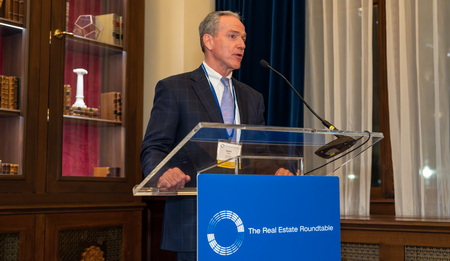 This week's Real Estate Roundtable Fall Meeting focused on financing and liquidity issues; housing shortages and the damaging impact that widespread remote work has on cities, small businesses and real estate markets. Additionally, mitigating policy initiatives were discussed, including: additional regulatory action on maturing loans; legislation to facilitate greater building conversions to housing; and technical tax proposal to address cancelled debt, extend opportunity zones and other matters. Regulations implementing last year's "climate" related laws were also a topic. Photo: Roundtable Chair John Fish (Chairman & CEO, Suffolk)
Overcoming the ongoing impasse regarding the election of a new Speaker of the House of Representatives was frequently cited as crucial to advancing any legislation, including funding the government and providing assistance to Israel and Ukraine. (The Roundtable's Oct. 13 Statement on the recent violence in Israel and its Fall 2023 Policy Priorities and Executive Summary, Oct. 16)
Speakers & Policy Issues
Roundtable members engaged in policy issue discussions with the following guests:
Tom Barkin, President and CEO, Federal Reserve Bank of Richmond
Richmond Fed President Barkin (above, with Roundtable Board Secretary Jodi McLean, Chief Executive Officer, EDENS) acknowledged how rising interest rates have hit CRE hard as the Fed aggressively moves to fight inflation. He also suggested recent data shows consumer demand is weakening, which may help to fight inflation. (Reuters | MarketWatch | Wall Street Journal, Oct. 17)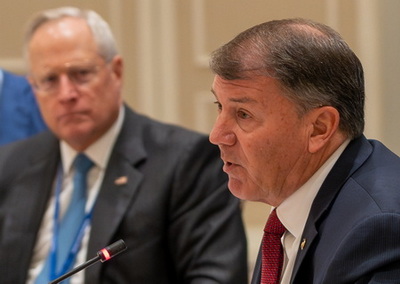 As a member of the Senate Banking, Housing, and Urban Affairs Committee, Sen. Rounds (right, with Roundtable Board Member Ross Perot, Jr., Chairman, The Perot Companies and Hillwood) offered his insights into how capital and credit market volatility affects housing policy. He also discussed property insurance costs, supply side issues, and the rising national debt.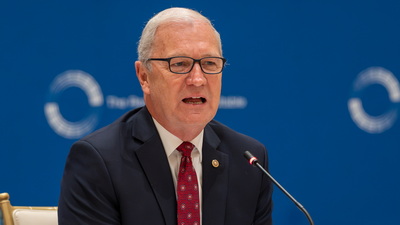 Sen. Kramer also discussed capital liquidity issues and his serious concerns about foreign aid for Ukraine, Israel, and Taiwan amid turmoil in House leadership.
Rep. Ritchie Torres (D-NY)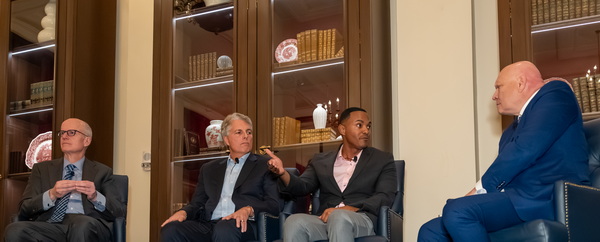 Rep. Torres (D-NY), gesturing above, discussed the violent, murderous attack on Israel and its citizens. He also engaged in a panel discussion on affordable housing, transit-oriented development, and real estate markets with Roundtable Board Members Owen Thomas, left, (Chairman and CEO, BXP); Mark Parrell, 2nd from left, (President and Chief Executive Officer, Equity Residential); and Roundtable President and CEO Jeffrey DeBoer, right. (See The Roundtable's Oct. 13 Statement on the recent attack)
John Podesta, White House Senior Advisor for Clean Energy Innovation and Implementation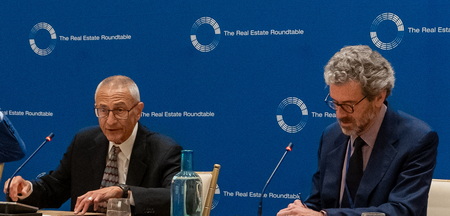 [Photo: John Podesta, left, with Roundtable Board Member Tony Malkin (Chairman, President, and CEO, Empire State Realty Trust and Chair of The Roundtable's Sustainability Advisory Committee)]. Mr. Podesta spoke with Roundtable members about the implementation of the Inflation Reduction Act's expansive clean energy and climate provisions.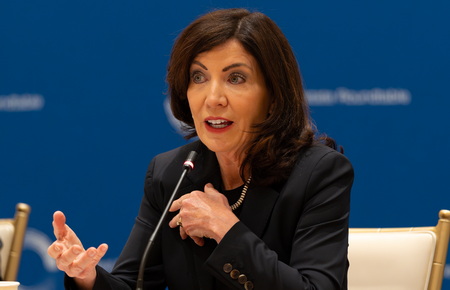 Gov. Hochul addressed real estate as a crucial economic force in New York State, noting the negative impact of remote work in New York City. She also discussed efforts to combat NIMBYism and the role of tax incentives and office conversions to jump-start affordable housing development.
Next on The Roundtable's meeting calendar is the all-member Annual Meeting, whick will include policy advisory committee meetings, on January 23-24, 2024 in Washington, DC.
# # #