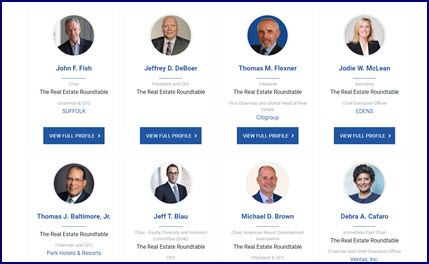 The Real Estate Roundtable's membership has approved five new members to serve on its 25-member Board of Directors during the 2024 fiscal year (July 1, 2023 – June 30, 2024). The Roundtable's Board is effective July 1, elected from the membership, and includes industry representatives from four of The Roundtable's 18 national real estate trade partners.
Board Transition
Roundtable Board Chair John Fish (SUFFOLK Chairman and CEO) also enters the final year of his three-year term that began on July 1, 2021. Fish said, "We look forward to the contributions of five new commercial real estate leaders who have joined The Roundtable's Board of Directors. Their individual expertise, insight, and broad skill sets will add to our organization's highly regarded effectiveness on national policy issues affecting CRE. Our Board, supported by our policy advisory committees and general membership, will continue to engage policymakers in Washington with fact-based, non-partisan analysis. I look forward to working with them on issues such as the negative impact of remote work on municipalities and communities; capital and credit concerns in a high-interest rate environment; and a practical approach to the role buildings can play in helping to achieve climate goals."
"I also offer my sincere gratitude to our Board members whose terms have expired. Their significant service to the industry during a global pandemic was essential, and we look forward to their continued participation as Roundtable members," Fish said.
Roundtable President and CEO Jeffrey DeBoer stated, "Roundtable members consistently bring innovative solutions to compelling policy challenges facing CRE. The Roundtable's Board of Directors represents all major industry activities and asset types, and includes diverse voices from throughout the country. This inclusion ensures that our Board's decisions are sustainable, flexible, and based in real-world economics. I am eager to continue working with the Board as we advance new recommendations on organizational and strategic policy direction."
The five new members joining The Roundtable's FY 2024 Board of Directors as of July 1 are:
Stepping down from The Roundtable Board as of July 1 are:
Alyssa Dangler, Partner, Williams Mullen
President, CREW Network
Ken McIntyre, Chief Executive Officer, Real Estate Executive Council
Leah Nivison, Managing Director, BMO Capital Markets
Immediate Past Chair, CRE Finance Council
Brandon Shorenstein, Chairman and Chief Executive Officer, Shorenstein Properties
A. William "Bill" Stein, Crystal Crown Ventures
The Roundtable's 2023 Annual Report—"Sustained Strength, Sustained Solutions"—will be sent to all members next week.
# # #