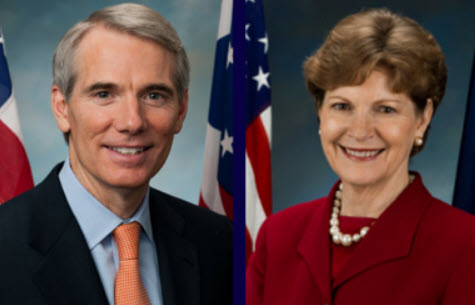 The Senate Energy and Natural Resources (ENR) Committee passed a bill on Wednesday that emphasizes voluntary measures and incentives to drive energy efficiency improvements in U.S. buildings, manufacturing, and other economic sectors.
The Energy Savings and Industrial Competitiveness (ESIC) Act (S. 2137) – sponsored by Senators Rob Portman (R-OH), above left, and Jeanne Shaheen (D-NH), right, and long endorsed by The Real Estate Roundtable – was advanced by the panel, along with several other energy bills.
Senator Lisa Murkwoski (R-AK), chairman of the ENR Committee, noted during the hearing, "For several Congresses now, [S. 2137] has been the Senate's flagship effort on energy efficiency. I'm hopeful that we are going to be able to see this into law."
The ESIC Act passed the committee by a substantial margin (14-6), although provisions regarding voluntary building energy codes failed to garner a majority of Republican votes. Murkowski added that the codes sections still needed more work to gain fuller bipartisan support. She was optimistic that the "prevailing concerns" of industry stakeholders could be resolved. (Committee video, Sept. 25)
The ESIC Act would improve current laws by adding "open government" and transparency provisions that do not currently apply to the development of building energy codes. Real estate and other stakeholders would be provided a platform to comment on DOE code proposals affecting the industry. The measure also includes a new requirement that would compel the U.S. Department of Energy (DOE) to consider costs and small business impacts as part of the codes development process. (Roundtable support letter for S. 2137)
S. 2137 would also direct the two federal agencies that separately collect critical nationwide data on building energy use – namely, the Energy Information Administration and the Environmental Protection Agency – to coordinate on their respective programs and take steps to ensure higher quality, more consistent data.
The ESIC Act "is exactly the kind of smart, forward-looking policy that will help building owners respond to our modern, evolving economy" Roundtable President and CEO Jeffrey DeBoer stated in a Senate news release upon the bill's introduction this summer. (Roundtable Weekly, July 19) (Video of DeBoer's statement)
Further negotiations to refine the ESIC Act are anticipated in the coming weeks before it might advance to the full Senate for a vote. Companion legislation is pending in the House (H.R. 3962), sponsored by Peter Welch (D-VT) and David McKinley (R-WV).
# # #