Incentives in the Inflation Reduction Act (IRA) will accelerate private sector investment in clean energy technologies, according to remarks this week from Treasury Secretary Janet Yellen, above. (Yellen's remarks, Sept. 27) 
Yellen announced that Treasury will host "a series of roundtable discussions to help inform our efficient and effective implementation of the tax credits." (Barron's and AFP News, Sept. 27)

A House Committee yesterday considered how the IRA's climate investments will lower families' utility bills, create jobs, and expand U.S. manufacturing of green tech and electric vehicles. (Video of Congressional hearing)
Several of the IRA

's revisions to the federal tax code can help the U.S. real estate sector reduce GHG emissions.

Roundtable fact sheets

detail the IRA's

Clean Energy Tax Incentives

(Sept. 20) and

Revenue Provisions

(Aug. 17)
Industry Education on the IRA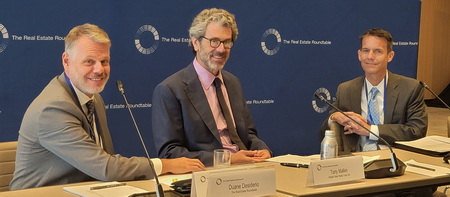 Roundtable Senior Vice Presidents Ryan McCormick (tax counsel), right, and Duane Desiderio, left, (energy counsel) recently participated in a number of panel discussions on how the IRA's tax credits and deductions can spur energy efficiency and renewable energy projects in buildings. (Roundtable's IRA fact sheet)

McCormick participated in a Sept. 27 Engineered Tax Services webinar. (Powerpoint slides)
Desiderio participated in a Sept. 27 CBRE podcast moderated by Co-Chair of The Roundtable's Research Committee, Spencer Levy (Senior Economic Advisor, CBRE) (Podcast transcript).

Desiderio also participated in a Sept. 28 briefing hosted by the Urban Land Institute (ULI) featuring members of The Roundtable's Sustainability Policy Advisory Committee (SPAC)­­ – Immediate Past Vice Chair Dan Egan (Managing Director, Real Estate ESG – Americas, Blackstone), Suzanne Fallender (VP Global ESG, Prologis), and ULI EVP Billy Grayson.
The Treasury Department is expected to issue multiple regulations and guidance documents in the coming months to implement the new law. The Roundtable plans to submit comments as the new rules are proposed to help accelerate industry investments in tackling the climate crisis.
# # #