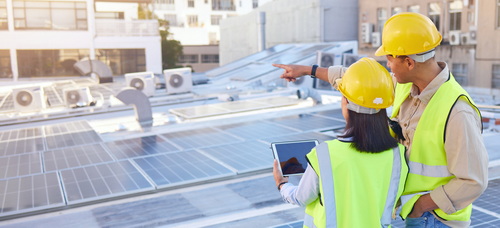 The Real Estate Roundtable submitted comments this week encouraging the Treasury Department to provide a compliance "safe harbor" to streamline labor-related requirements necessary to seek "bonus" tax incentives for clean energy building projects under the Inflation Reduction Act (IRA). (Roundtable comment letter, Oct. 30)
Prevailing Wage and Apprenticeship Compliance Burdens
The Roundtable letter notes that the IRA's objective to support retrofits and slash carbon emissions in the built environment will be undermined if the costs of labor compliance far exceed the incentives offered by Congress.
The comments explain that wage and apprenticeship compliance burdens would dis-incentivize businesses and taxpayers' to pursue the IRA's clean energy bonuses, thereby rendering the bonus credits program illusory in many cases.
The letter also emphasizes that a regulatory solution to ease the IRA's paperwork burdens would spur more clean energy projects in buildings—and encourages Treasury/IRS to conduct its own thorough cost-benefit accounting of Prevailing Wage/Registered Apprenticeship (PW/RA) Requirements before issuing a final rule.
Contractor Compliance Certifications Sought
The "safe harbor" recommendation by The Roundtable would allow building owners/developers to rely on written certifications provided by their General Contractors (GCs), or any other subcontractors (subs), would confirm and fulfill all PW/RA labor requirements.
This streamlined approach would reduce the compliance burden and retain the fervor that IRA tax incentives could generate under the IRA. Real estate owners and developers are not the direct employers of electricians, plumbers, HVAC technicians, solar technicians, EV charging installers, or any others that construct or retrofit buildings. GCs and subs directly employ manual laborers.
The Roundtable also recommends regulators develop "Recordkeeping Requirements" for PW/RA compliance that reflect the reality of how laborers, mechanics, and apprentices are employed on real estate projects, who is hired by whom, and how hours worked are tracked.
Other targeted tax reforms that will help scale real estate's transformation toward zero emissions are recommended in The Roundtable letter. These include expanding Section 48 of the Code to building electrification technologies; allowing private owner transfers to unrelated third parties under Sections 45L and 179D; and repealing a Section 179D rule that reduces a property's basis by the amount of the claimed deduction. (Roundtable comment letter, Oct. 30)
# # #