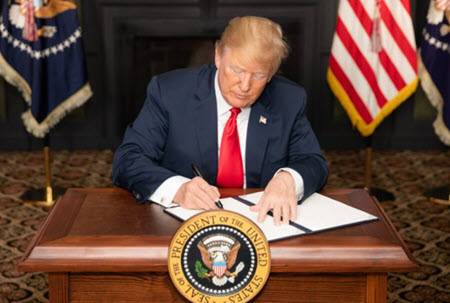 Congress this week passed a four-week spending bill that was by signed President Trump last night to fund the government beyond Nov. 21 and avoid a shutdown.
The Continuing Resolution (CR) locks in current funding levels for government operations until Dec. 20 – including the National Flood Insurance and EB-5 investment programs.
The measure, passed by the House on Tuesday and the Senate on Thursday, gives Congress three weeks after the Thanksgiving recess to agree on allocating $1.37 trillion for the 2020 fiscal year, which began Oct. 1. (Roundtable Weekly, Sept. 27)
To avoid future stopgap measures for FY2020, policymakers will need to settle the contentious issue of funding for a wall along the U.S.-Mexico border. Last Dec. 22, the government shutdown for 35 days when Congress and President Trump could not reach agreement on border-security funding for a wall. (Wall Street Journal, Nov. 22)
Senate Appropriations Chairman Richard Shelby (R-AL) commented on recent efforts to reach an agreement for funding the Department of Homeland Security, which oversees border security. "We gotta deal with the wall, too," Chairman Shelby said this week. "The wall is still there." (Politico, Nov. 21)
The CR's extension for the EB-5 investment program until Dec. 20 does not include any legislative reforms. However, long-anticipated regulatory changes to key elements of the EB-5 regional center program took effect Nov. 21. (Roundtable Weekly, March 8, 2019).
Negotiations to modernize the investment visa program are expected after the Thanksgiving recess in light of a comprehensive EB- reform bill introduced earlier this month (Roundtable Weekly, November 8, 2019).
The Real Estate Roundtable, U.S. Chamber of Commerce, EB-5 Investment Coalition, and other real estate organizations sent a letter on Nov. 15 in support of the bipartisan Immigrant Investor Program Reform Act (S. 2778) – sponsored by Senate Judiciary Chairman Lindsey Graham (R-SC), Democratic Leader Charles Schumer (D-NY), and Sens. Mike Rounds (R-SD) and John Cornyn (R-TX).
The Senate is scheduled to return on Dec. 2 and the House on Dec. 3.
# # #