Congressional negotiators reported progress on a border-security deal this week, as they aim to pass legislation by Feb. 15 to fund approximately 25% of the government. Without a new funding measure, the government will face a second partial shutdown. (Roundtable Weekly, Feb. 1)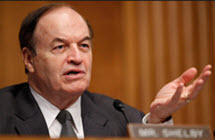 Senate Appropriations Chairman Richard Shelby (R-AL) met with President Trump yesterday, stating: "[The president] said to me again he would like for us to wrap it up, to get a legislative solution. We're negotiating on the substance, serious stuff now…"
Senate Appropriations Chairman Richard Shelby (R-AL) met with President Trump yesterday, stating: "[The president] said to me again he would like for us to wrap it up, to get a legislative solution. We're negotiating on the substance, serious stuff now. …This is the most positive I've been or I've seen in the talks since, oh gosh, maybe ever." (CQ and Roll Call, Feb. 7)
House Appropriations Chairwoman Nita Lowey (D-NY) said yesterday that negotiators are acting in "good faith" but may not be able to finish work by Friday. Shelby added, "I think we're looking at Monday right now. But there's a lot to do." (BGov and Fortune, Feb. 7)
If the 17 members of the conference negotiation committee reach agreement by Monday, legislative text could reach the House floor by Thursday, Feb. 14 – followed by action in the Senate.
Infrastructure
President Trump also briefly commented during the SOTU on the need for funding national infrastructure improvement projects. "I know that Congress is eager to pass an infrastructure bill. And I am eager to work with you on legislation to deliver new and important infrastructure investment, including investments in the cutting edge industries of the future. This is not an option, this is a necessity," Trump said. (Politico, Feb. 5)
House Transportation and Infrastructure Committee Chairman Peter DeFazio (D-OR) responded to the SOTU, stating: "None of this can happen, however, if we continue to ignore the looming crisis facing the Highway Trust Fund. I will work to build bipartisan agreement around legislation, but I can't do it alone. This will require massive effort from the White House, stakeholders, and supporters in Congress to get something real across the finish line." (DeFazio Statement, Feb. 5)
The need to repair aging roads, bridges, transit, airports and harbors throughout the country was the focus of Chairman DeFazio's Infrastructure Committee hearing yesterday on "The Cost of Doing Nothing: Why Investing in Our Nation's Infrastructure Cannot Wait." (Chairman DeFaizo's Opening Remarks, Feb.7)
The Roundtable sent a comment letter to President Trump in Jan. 2018 offering specific suggestions on how innovative financing sources may be used to help pay-for infrastructure improvements – and how restructuring a lengthy permitting process and cutting unnecessary red tape will help control project costs and delays. (Reference: The Roundtable's 2019 Policy Agenda Infrastructure section).
"Green New Deal"
This week also saw the unveiling of a sweeping Democratic congressional resolution called the "Green New Deal" that aims to "achieve net-zero greenhouse gas emissions" in the next 10 years. (Sen. Ed Markey new release, Feb. 7)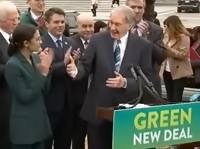 Rep. Alexandria Ocasio-Cortez (D-NY) and Sen. Ed Markey (D-MA) introduced a sweeping Democratic congressional resolution called the " Green New Deal " that aims to "achieve net-zero greenhouse gas emissions" in the next 10 years.
Rep. Alexandria Ocasio-Cortez (D-NY) and Sen. Ed Markey (D-MA) yesterday introduced the resolution. The measure is a non-binding, aspirational blueprint that includes a federal jobs guarantee, basic income and universal health care. All the declared 2020 Democratic presidential candidates in the Senate are among the co-sponsors of the resolution. (Wall Street Journal and CNBC, Feb. 8)
The proposal includes the goals of upgrading every existing building in the United States and requiring that new buildings should "achieve maximal energy efficiency, water efficiency, safety, affordability, comfort, and durability, including through electrification." (Fast Company, "AOC's Green New Deal is a Wake-up Call for the Building Industry," Feb. 7)
Federal data show that commercial building energy use has decreased dramatically since the late 1970s. The Roundtable's membership and Sustainability Policy Advisory Committee (SPAC) have worked closely with policymakers and federal agencies for years to achieve substantial reductions in CRE's energy consumption and carbon footprint on a national scale. (Reference: 2019 Policy Agenda's Energy section)
The Roundtable and SPAC continue to advocate further steps in achieving greater energy efficiency in buildings. The Roundtable currently is working with stakeholders on a proposal to reduce the after-tax cost of energy efficient systems and equipment, in light of the 2017 tax overhaul's new framework for expensing building improvements.
Energy efficiency for commercial buildings, government funding and infrastructure and were among the topics discussed last week during The Roundtable's State of the Industry Meeting, where Speaker of the House Nancy Pelosi (D-CA) was a featured speaker. (Roundtable Weekly, Feb. 1)