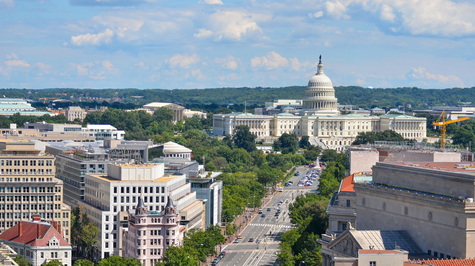 The Real Estate Roundtable's Virtual 2022 State of the Industry (SOI) Meeting this week included discussions with national policymakers and industry leaders on the future of the Build Back Better (BBB) Act, the Fed and monetary policy, energy policy, regulatory oversight of ESG reporting, along with equity, diversity and inclusion issues in CRE. The Roundtable's policy advisory committees also met, drilling down on timely issues with policy and industry experts in the areas of tax, sustainability, capital and credit, and homeland security.
Speakers & Policy Issues
Roundtable Chair John Fish (Chairman and CEO, Suffolk), right, and Roundtable President and CEO Jeffrey DeBoer, left, launched the meeting and led discussions with three U.S. Senators and other prominent policymakers, including:
Sen. John Thune (R-SD)
Senate Republican Whip
Committees: Senate Commerce, Finance, Agriculture
… joined Roundtable Board Member Ross Perot. Jr. (Chairman, Hillwood) to discuss upcoming Senate legislation and the political outlook.
Sen. Amy Klobuchar (D-MN)
Committees: Joint Economic, Senate Commerce, Judiciary, and Rules
… expressed her support for the recently-enacted bipartisan infrastructure bill and additional pandemic aid for the hard-hit tourism industry and hospitality sectors.
Sen. Catherine Cortez Mastro (D-NV)
Committees: Senate Finance, Banking, and Energy
… noted her support for expanding the low-income housing tax credit to build affordable homes for working families, along with business incentives to invest in energy efficiency projects.
John Kerry
President Biden's Special Envoy for Climate and former Secretary of State
… discussed the significant role of the real estate industry in efforts to combat the impact of climate change and emphasized the need for nations to adopt new green energy technologies.
Larry Summers
Former Treasury Secretary under President Clinton and Former White House National Economic Council Director under President Obama
… discussed a wide range of policy topics, including his views on the Fed's reaction to market volatility, inflation, and the tight labor market. (Watch Summers video)
Equity, Diversity & Inclusion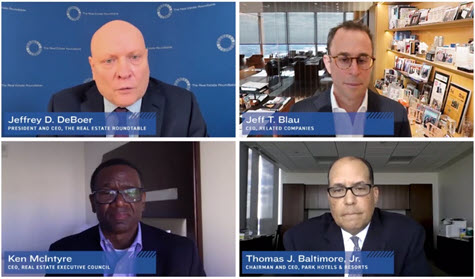 The SOI meeting also included a discussion about exploring a potential industry initiative that would aim to accelerate opportunities for minority and women business enterprises (MWBEs) in the commercial real estate industry.
The goals of the initiative were discussed by The Roundtable's Equity, Diversity and Inclusion (E,D&I) Committee Chairman, and Roundtable Board Member, Jeff Blau (CEO, Related Companies); Ken McIntyre, CEO of The Real Estate Executive Council; and Thomas Baltimore, Jr., Chairman, President and CEO of Park Hotels & Resorts.
Roundtable Policy Advisory Committees

(Above: Sustainability Policy Advisory Committee (SPAC) Chair Tony Malkin (Chairman, President and CEO, Empire Realty Trust), right, and Roundtable SPAC Liaison, Senior Vice President and Counsel Duane Desiderio, left.)
The Roundtable's policy advisory committee meetings on Jan. 25-26 analyzed national issues impacting CRE, including:
Research and Real Estate Capital Policy Advisory Committees (RECPAC)

Rep. French Hill (R-AR) provided his insights on the congressional legislative agenda from his perspective as a member of the House Financial Services Committee and Ranking Member of its Subcommittee on Housing, Community Development and Insurance. Research Committee co-chairs Spencer Levy (CBRE's Global Chief Client Officer) and Paula Campbell Roberts (KKR Managing Director) provided their perspectives on real estate capital markets. RECPAC co-chair Kathleen Farrell, Head of Commercial Real Estate for Truist, moderated a joint committee meeting capital market discussion, along with co-chairs Gregg Gerken, Head of Commercial Real Estate with TD Bank, and Mike Lowe, Co-CEO with Lowe.

Tax Policy Advisory Committee (TPAC)

Potential tax revenue policies that may be considered by Congress were a focus of a discussion moderated by Russ Sullivan (Brownstein Hyatt Farber Schreck) with Bethany Bell, staff director for the House Ways and Means Subcommittee on Select Revenue Measures. Additionally, Derek Theurer, chief tax counsel for Ways and Means' Republicans, discussed tax legislative priorities prior to the upcoming mid-term elections.

Homeland Security Task Force (HSTF)

HSTF members were briefed on the escalation of organized "smash and grab" looting incidents affecting the retail sector by Dan Kennedy, Senior Vice President of US Security Operations for Unibail-Rodamco-Westfield, Chris Woiwode, Vice President and Chief Security Officer for Macerich and Terry Monahan, former New York City Senior Advisor for Recovery Safety Planning and NYPD Department Chief. Additionally, HSTF co-chairs Amanda Mason (Executive Director of Global Intelligence for the Related Companies) and Keith Wallace (Vice President for Global Safety & Security with Marriott International) led HSTF in a discussion on current threats to CRE and mitigation strategies. (HSTF on Jan. 20 held a virtual exercise simulating hostile events and adverse weather impacting CRE).
Sustainability Policy Advisory Committee (SPAC)

Environmental Protection Agency (EPA) staff demonstrated a new, powerful Building Emissions Calculator to estimate historical, current and future annual greenhouse gas emissions resulting from a building's energy use. SPAC also discussed the SEC's expected rule on Environmental, Social, and Corporate Governance (ESG) reporting requirements. (Reuters, Jan. 19). Additional speakers from the U.S. Energy Information Administration provided an update on the Commercial Building Energy Consumption Survey (CBECS), which tracks federal data on U.S. CRE energy use.
Next on The Roundtable's FY2022 meeting calendar is the Spring Meeting on April 26. This meeting is restricted to Roundtable-level members only.
# # #