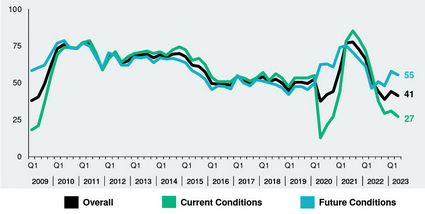 The Real Estate Roundtable's Q2 2023 Sentiment Index dropped to an overall score of 41, three points lower than the previous quarter. Commercial real estate executives noted how remote work, high interest rates, operating cost escalations, and difficult price discovery has led to significant uncertainty in the post-pandemic office sector and reduced liquidity for nearly all commercial real estate asset classes.
Stress in Office Sector Threatens Cities, Jobs
Industry leaders also reported relatively healthy Q2 demand for industrial, multifamily, and strip center retail assets. Solid rental growth in multifamily, senior, student, and assisted living sectors was another positive trend reported by sentiment survey participants. (See entire Q2 report.)
Roundtable President and CEO Jeffrey DeBoer, below, said, "The commercial real estate market is at the center of a major transition. Maturing office loans in particular face a new environment of higher operating and financing costs, much tighter bank lending requirements, and uncertainty in business space needs."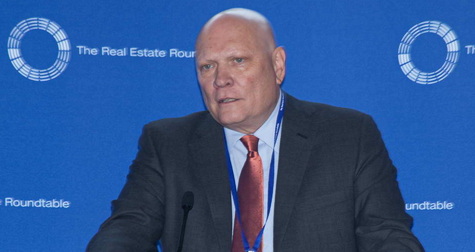 "However, while there is relatively good current news from non-office CRE sectors, the combination of reduced liquidity, increased costs, and post-pandemic business uncertainty threatens to spread to these other sectors as well—and potentially cause great damage to communities, jobs, and the economy. Federal financial institution regulators must act quickly to provide greater supervisory flexibility—as they did in 2009, 2020, and 2022—to allow lenders and borrowers to responsibly restructure the large amount of maturing commercial real estate loans."
"Businesses and individuals need more time to transition their space needs to the post-pandemic economy. Greater certainty in demand will allow commercial real estate markets, particularly the office sector, to stabilize and revert to its dominant position as the source for local budget revenue. In addition to regulatory flexibility, positive public and private action to encourage in-person, return-to-work policies is needed, where appropriate. As some buildings will need to be reimagined entirely, policy reforms are needed to encourage those buildings to convert to other uses such as housing," DeBoer added.
The Roundtable's Sentiment Index—a measure of senior executives' confidence and expectations about the commercial real estate market environment—is scored on a scale of 1 to 100 by averaging the scores of Current and Future Sentiment Indices.­­­­ Any score over 50 is viewed as positive. ­­­­
Topline Findings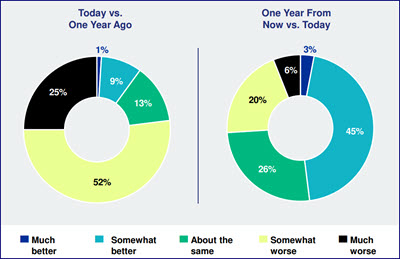 The Q2 Sentiment Index topline findings include:

The Q2 2023 Real Estate Roundtable Sentiment Index registered an overall score of 41, a decrease of three points from the previous quarter. The Current Index registered 27, a four-point decrease from Q1 2023, and the Future Index posted a score of 55 points, a decrease of three points from the previous quarter.
Participants noted the continued disparity between asset classes as well as within them. On one hand, rental demand continues to hold up in the multifamily and industrial sectors. Hotel and retail markets are also largely performing well and niche asset classes continue to generate interest and attract capital. On the other hand, while Class A offices remain desirable, the rest of the office industry is struggling to reposition itself.
Similar to last quarter, 93% of survey participants believe that asset values have repriced to the downside vs. last year. However, limited trades in 2023 are making it difficult to gauge the market. Survey respondents continue to observe wide disparities in bid-ask spreads.
The availability of capital, both debt and equity, continues to be a pressing topic. Regarding the availability of debt and equity, 93% and 75% of survey participants, respectively, believe that today's conditions are more difficult than a year ago. While the cost of capital has universally increased, platform scale and relationships largely determine access and ability to secure debt financing.

Looking to the future, 48% of survey participants stated general market conditions will be more favorable a year from now—although only 20 percent of respondents believe asset values will be more favorable in one year.
Data for the Q2 survey was gathered in April by Chicago-based Ferguson Partners on The Roundtable's behalf. See the full Q2 report.
The Real Estate Roundtable brings together leaders of the nation's top publicly-held and privately-owned real estate ownership, development, lending and management firms with the leaders of major national real estate trade associations to jointly address key national policy issues relating to real estate and the overall economy.
# # #