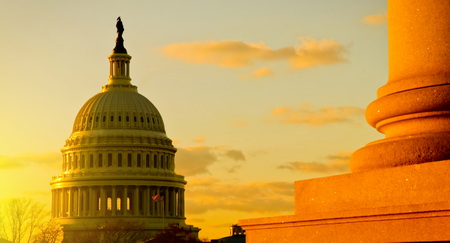 Congress needs to pass a continuing resolution (CR) by next Saturday, Nov. 18 to avoid a partial government shutdown if appropriations bills are not enacted for the fiscal year that began Oct. 1. (CQ and The Hill, Nov. 9)
CR vs Shutdown
New House Speaker Mike Johnson (R-LA) may introduce a funding bill early next week, giving only days for Congress to agree on a CR or risk a partial government shutdown. House Republican leaders have signaled they still may pursue a "laddered" approach—with several spending bills to last until December and the remainder in January. By contrast, The Senate is considering a short-term CR to fund the government until mid-December. (Punchbowl News, Nov. 9)
Another major consideration is a White House $106 billion supplemental request that includes aid for Ukraine and Israel. Republicans have voiced opposition to the package unless President Biden includes policy changes on border security.
Today, Biden commented today that he was "open to discussions about the border" on the tarmac before boarding Air Force One.
The administration has also requested another $56 billion for domestic policies that include childcare, broadband subsidies, and disaster relief. (Roll Call, Nov. 7)
CRE Conditions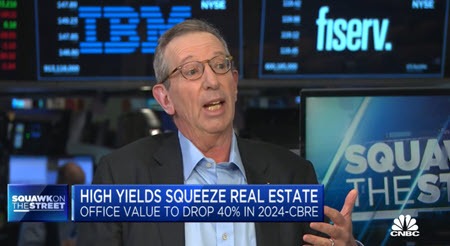 Real Estate Roundtable Chairman Emeritus Bill Rudin, above, (Co-Chairman and CEO, Rudin Management Co.) this week discussed challenges facing CRE on CNBC's Squawk on the Street, including a massive wave of loans that need to be refinanced over the next few years and the need for property conversions.
Rudin emphasized that each CRE sector, and region, is different, noting that multifamily properties and high-quality commercial buildings may be doing well while certain office assets face significant challenges. The Roundtable's Q4 Sentiment Index released last week reflects these conditions, which include higher financing costs, increased illiquidity, and uncertain post-pandemic user demand. (Roundtable Weekly, Nov. 3 and GlobeSt, Nov. 7)
Roundtable President and CEO Jeffrey DeBoer said, "Various CRE markets and asset classes need more time to adapt to the new preferences of clients; more flexibility to restructure their asset financing; and patience while adjusting to the evolving valuation landscape. In addition to conversion activities, The Roundtable continues to urge the federal government to return to the workplace and support measures to assist loan modifications and increase liquidity available to all asset classes and their owners. We also remain opposed to regulatory proposals that impede capital formation." (Roundtable news release, Nov. 3)
# # #