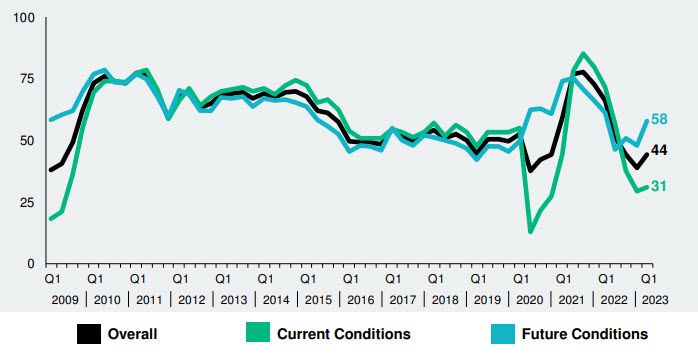 The Real Estate Roundtable's Q1 Economic Sentiment Index reports that industry executives, while optimistic about the future, remain uncertain about current market conditions, citing inflation, rising interest rates, and supply chain disruptions as concerns. However, executives also express that perceptions and outlooks differ across asset classes, as some remain strong and others show concerns.
Roundtable President and CEO Jeffrey DeBoer said, "Fundamentally, our Q1 index illustrates that the trends accelerated by the pandemic have led to mixed performances across asset classes. Multifamily and industrial assets have maintained steady growth due to increased housing demand and supply chain needs, while hospitality and student housing are regaining momentum. But in the office sector, remote work policies, concerns over crime and transportation are driving record-high vacancy rates throughout the country, hurting city budgets and small businesses."
"Looking forward, industry leaders are anticipating the landscape to improve throughout the year, despite recent declines in asset values and the decreased availability of debt and equity capital compared to a year ago. Policymakers should emphasize the need to return to the workplace while considering other innovative solutions such as legislation to convert underutilized offices to housing to entrench this optimism, create jobs, spur economic activity, and increase housing supply and tax revenue," DeBoer added.
The Roundtable's Economic Sentiment Index—a measure of senior executives' confidence and expectations about the commercial real estate market environment—is scored on a scale of 1 to 100 by averaging the scores of Current and Future Economic Sentiment Indices.­­­­ Any score over 50 is viewed as positive. ­­­­
Top Line Findings
The Q1 2023 Real Estate Roundtable Sentiment Index registered an overall score of 44, an increase of five points from the previous quarter. The Current Index registered at 31, a two-point increase from Q4 2022, and the Future Index posted a score of 58 points, an increase of ten points from the previous quarter.
Several survey respondents acknowledged the dangers of generalizing trends across the commercial real estate industry as the disparities between asset classes grow; multifamily and industrial continue to attract interest, hospitality and student housing are beginning to bounce back, meanwhile Class B office is struggling.
Nearly all survey participants (93%) expressed that asset values have fallen year-over-year. That said, conversations with industry leaders suggest that the market is still in a period of price discovery. With low transaction volume and a limited supply of debt capital, there is lingering uncertainty as to where asset prices will ultimately land.
Survey participants overwhelmingly indicated that the availability of debt and equity capital is worse today compared to one year ago (93% and 82% respectfully). However, over half of participants expect the capital markets landscape to improve over the next 12 months.
Data for the Q1 survey was gathered in January by Chicago-based Ferguson Partners on The Roundtable's behalf. See the full Q1 report.
# # #