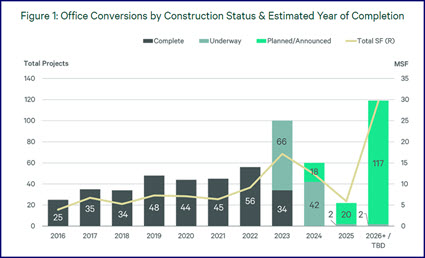 Recent CRE research shows an increasing number of colleges and universities are acquiring office buildings for adaptive reuse. Meanwhile, an overall surge in U.S. office-conversion projects scheduled for completion this year represents more than double the average annual pace. Federal, state and local conversion-incentive programs could play an important role going forward. (New York Times, Oct. 3 and CBRE, Rise in Office Conversions May Help to Reinvigorate Cities, Sept. 27)
Conversion Trends
Data from JLL cited in this week's New York Times article shows dozens of U.S. institutions of higher education have bought office buildings since 2018—including 49 four-year private schools and 16 four-year public institutions—often for conversion to academic use.
Separately, CBRE research published Sept. 27 shows that a surge in office-conversion projects in major U.S. cities this year (nearly half of them in the multifamily sector) may help urban economies recover after the pandemic-induced shift to hybrid working. (Commercial Property Executive, Oct. 2 and GlobeSt, Sept. 29)
The CBRE report shows that 60 million square feet of office conversions are planned or in progress in 40 U.S. markets, which represents 1.4 percent of the nation's office inventory. The report also notes that, despite a variety of government incentive programs, adaptive reuse is not a panacea for problems facing the U.S. office market, especially in a high interest rate environment.
Role of Policy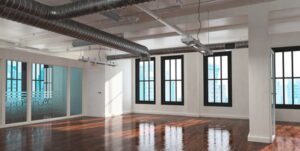 An Oct. 16 discussion during The Roundtable's Fall Meeting in Washington, DC will address policy initiatives impacting building conversions, and other challenges facing CRE, during The Roundtable's Fall Meeting in Washington, DC.
The Roundtable strongly supports policies that provide incentives for office-to-residential conversions. Last Dec, The Roundtable urged the Biden administration to support "legislation to facilitate the increased conversion of underutilized office and other commercial real estate to much-needed housing." (RER letter to President Biden, Dec. 12, 2022 and Roundtable Weekly, Aug. 11, 2023)
This week, Roundtable Senior Vice President Chip Rodgers joined a group of business groups' representatives to brief the staff of the House Financial Services Subcommittee on Financial Institutions and Monetary Policy, and the Subcommittee on Capital Markets.
The Oct. 2 briefing emphasized the need for policymakers to address dislocations in the office market by 1) incentivizing the conversion of outmoded office properties to residential use to help meet the nation's housing needs; and 2) requiring federal government workers return to their offices.
Federal government programs will incentivize local jurisdictions to pursue office-to-residential conversions, according to CBRE. Federal incentives also aim to encourage financing mechanisms to build and preserve more housing, while reducing land-use and zoning restrictions for affordable and zero-emissions housing. (CBRE, Sept. 27)
A Real Estate Roundtable property conversions working group has worked with lawmakers for several months on draft legislation to create a tax credit for converting older commercial buildings to housing.
#  #  #