Yesterday, the Florida Department of Commerce proposed a positive clarification to a recently enacted law impacting foreign real estate investment, with implications for similar laws in several other states. The clarification responds to a Roundtable request on Sept. 5 urging the Florida Real Estate Commission to consider specific concerns before implementing the new state law, which could impair capital formation and hinder the important role that legitimate foreign investment plays in U.S. real estate, the broader economy and job growth. (Roundtable letter, Sept. 5 and Roundtable Weekly, Sept. 8)
Section 203
The proposed rule published on Sept. 21 addresses the implementation of Florida Senate Bill 264 (SB 264), Section 203, signed into law on May 8. The new law aims to limit and regulate the sale and purchase of certain Florida real property by "foreign principals" from "foreign countries of concern." The Florida Real Estate Commission will implement the new law. (SB 264 text).
Section 203 of the bill prohibits investment in real property near military installations and critical infrastructure.  Importantly, the de minimis exemption has been re-drafted, which (1) fixes earlier drafting errors to the Registered Investment Advisor exemption, and (2) introduces a new category of de minimis interests that categorically exempts passive indirect investment. (See highlighted areas in the Notice of Proposed Rule)
The proposed rule clarification remains subject to change during a 21-day public comment period and may include a formal hearing.
Section 204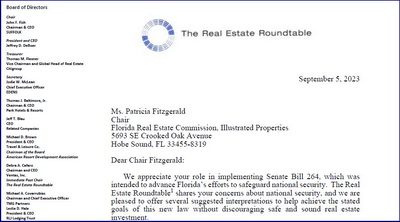 Broader prohibitions in another area of SB 264—Section 204—generally preclude Chinese investors from acquiring "any interest" in any Florida real property anywhere in the state. Since the de minimis language and relevant statutory text are almost identical across Sections 203 and 204, The Roundtable is hopeful that similar language will be adopted during the rulemaking process for Section 204. 
The Sept. 5 letter from Roundtable President and CEO Jeffrey DeBoer, above, notes that approximately $1.5 trillion of U.S. commercial real estate debt will come due in the next three years. Foreign equity investments in U.S. assets are often an important source of capital as commercial real estate owners seek to restructure, refinance or sell their properties.
DeBoer urged the Commission to "carefully consider the impact of your agency's interpretation and implementation efforts of this new law so that it does not prohibit major investments in the state, which are safe from control by foreign countries of concern and promote growth without sacrificing the security or economic interests of Florida." (Roundtable letter, Sept. 5)
#  #  #