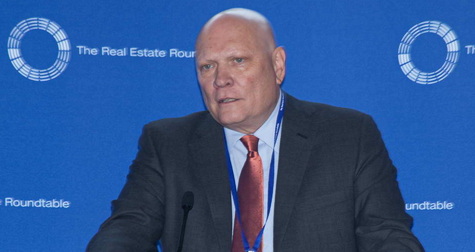 This week, Real Estate Roundtable President and CEO Jeffrey DeBoer, above, challenged the Administration's recently proposed budget, which would recharacterize nearly all real estate carried interest as ordinary income, in Bisnow, a prominent commercial real estate media outlet. (Bisnow, April 13)
Taxing Carried Interest as Ordinary Income
President Biden's budget includes tax proposals recycled from last year that failed to pass congressional negotiations, including taxing long-term capital gains at ordinary income rates – and taxing carried interest in real estate partnerships as ordinary income. (Roundtable Weekly, April 1)
In Bisnow's "Taxing Carried Interest as Ordinary Income: The Idea that Never Dies, but Never Becomes Law Either," DeBoer noted, "The president's carried interest budget proposal would, for the first time, limit capital gain tax treatment to the return on cash and cash-equivalent investment. This would ignore the reality that real estate owners and developers bear significant financial risks beyond their capital contribution."
DeBoer added, "The capital gains tax incentive has always recognized and rewarded other factors beyond just invested cash, including the assumption of construction, litigation and market risk, as well as the sweat equity associated with owning investment real estate.

"

Targeting tax evaders and illegal transactions is appropriate, DeBoer noted, but he emphasized that penalizing entrepreneurship and discouraging noncash risk-taking

by recharacterizing all carried interest as ordinary income would be a mistake.

Proposals to recharacterize carried interest as ordinary income have been introduced in Congress perennially since 2007. The Tax Cuts and Jobs Act of 2017

included a provision

extending the holding period requirement from one to three years for carried interest to qualify

for the reduced long-term capital gains tax rate.
Carried interest and other tax issues outlined in The Roundtable's recently released 2022 Policy Agenda will be discussed during the April 25-26 Spring Meeting (Roundtable-level members only) in Washington DC.
# # #