Rep. French Hill (R-AR), above, – Ranking Member of the House Financial Services Subcommittee on Housing, Community Development and Insurance – led a Feb. 23 discussion on the widening gaps in pandemic-related coverage in commercial insurance markets with policyholders and insurance industry officials.
Pandemic Risk Insurance Solution
Additionally, members of the multi-industry Business Continuity Coalition (BCC), which includes The Real Estate Roundtable, on Feb. 23 urged policymakers to enact a public-private pandemic risk insurance backstop program. The BCC's Feb. 23 statement emphasizes that such a program would protect the economy from future government-ordered shutdowns while enabling employers to keep payrolls and supply chains intact.
The BCC is comprised of over 50 business organizations and companies representing approximately 70 million workers in the hospitality, retail, real estate, communications, broadcasting, nonprofit association, entertainment, restaurant, gaming and professional sports industries. (BCC statement, Feb. 23)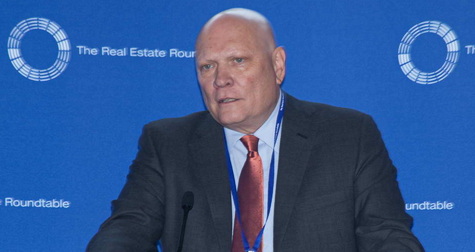 Real Estate Roundtable President and CEO Jeffrey DeBoer, above, said, "Pandemic risk is one of the largest unhedged risk exposure in the U.S. economy today. It is important to have an economic mechanism in place to protect jobs and the economy from future government mandated shutdowns."
DeBoer added, "The Real Estate Roundtable and its Business Continuity Coalition partners encourage policymakers to prepare the economy for future risks by enacting a program that provides the coverages that American businesses need."
The BCC offered a detailed proposal last March to establish a federal pandemic insurance program, and endorsed the Pandemic Risk Insurance Act (H.R. 5823) last November, while policymakers continue to deliberate on how to design such a program. (Roundtable Weekly, Nov. 5, 2021)
The coalition noted that the design of any pandemic risk insurance program should adhere to certain principles, which are outlined in the Feb. 23 statement.
# # #