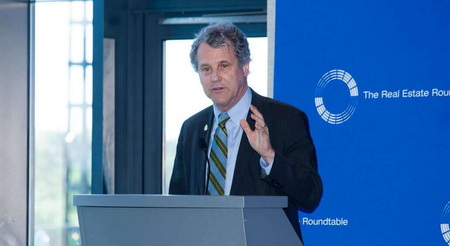 Senate Banking Committee Chairman Sherrod Brown (D-OH), above, and 11 other committee members urged Treasury Secretary Janet Yellen, who oversees the Financial Stability Oversight Council (FSOC), to identify risks and vulnerabilities brought to light during the recent banking crisis and provide regulatory, legislative, or other recommendations. (March 31 Letter and Politico Pro)
Regulatory Action
The committee letter called upon the Oversight Council's members to conduct a thorough assessment that should include "traditional, quantifiable risks within prudential regulation, such as liquidity and interest rate risk management of less durable funding sources like non-core or uninsured deposits, and concentrations in asset classes like commercial real estate & long duration bonds." (March 31 Letter)
The Federal Reserve is conducting a separate review of federal banking oversight, with a report expected by May 1 that will recommend regulatory and supervisory actions. Fed Chair Jerome Powell has stated he will support the report's regulatory recommendations. (Barr congressional testimony, March 30 and The Hill, March 28)

A recent House Financial Services Committee (HFSC) hearing—"The Federal Regulators' Response to Recent Bank Failures"—featured testimony from Federal Reserve Vice Chair for Supervision Michael Barr, Federal Deposit Insurance Corp. Chairman Martin Gruenberg and Treasury Undersecretary for Domestic Finance Nellie Liang.

HFSC Chairman Patrick McHenry (R-NC) on March 31 stated, "As we heard from [President] Biden's own regulators at this week's hearing, supervisory incompetence was the leading cause of the failures. There is no evidence that the original Dodd-Frank would have prevented these bank runs. Additionally, no recent stress test has considered the current economic conditions—most notably the Fed's rapid rate increases to combat Democrat-induced inflation—that contributed to the fall of these institutions."
Roundtable Leaders Respond
Capital concerns affecting commercial and multifamily markets were a focus this week of the Walker Webcast, which featured Roundtable President and CEO Jeffrey DeBoer and National Multifamily Housing Council President Sharon Wilson Géno. Roundtable Member Willy Walker (Chairman & CEO, Walker & Dunlop) led the wide-ranging discussion on April 5, which addressed the federal response to the bank failures, the debt ceiling, and affordable housing.
DeBoer said, "I don't think anybody assumed a 12-year period of basically zero interest rates, followed by a steep 500bps increase in financing costs, immediately following a once-every-hundred-years pandemic that shut everything down and changed a lot of the ways . . . (in which) . . . the built environment would be used," DeBoer said. "I think all of this has to be allowed to settle through." (Walker Webcast video and Connect CRE, April 5)

Similar observations were offered this week by the head of the International Monetary Fund, who cautioned that a more volatile global economy would bring slower growth and greater financial fragility. "There is simply no way that interest rates would go up so much after being low for so long and there would be no vulnerabilities. Something is going to go boom," IMF Managing Director Kristalina Georgieva said. (PoliticoPro, April 6)

DeBoer also noted The Roundtable's recent letter urging federal regulators "to take action immediately to provide increased latitude for financing institutions to work constructively with borrowers. Such action will avert what we believe would be an unnecessary crisis." (Roundtable Weekly, March 17)
The challenges facing the industry due to recent interest rate hikes, bank failures, and continued widespread remote work will be a top focus of The Roundtable's Spring Meeting on April 24-25 in Washington, DC (Roundtable-level members only).
# # #