Approximately $5.65 billion in commercial real estate loans have been modified with extensions in 2023, with nearly 73% of the total from the office sector, according to a recent Trepp report. The rise in loan extensions—sparked by higher interest rates, lower valuations, and remote work—also come at a time when commercial mortgage-backed securities (CMBS) have been subdued. (Trepp CRE Research Report)
Modification Trend
Trepp reported that term increases of 1-12 months comprised the largest share (37%) of extensions. The largest quarter upon maturity came in Q2 2023, when $957 million in loans were extended.
Office properties comprised 72.9% of the total $3.2 billion in loan extensions, or roughly $2.4 billion. Trepp stated, "Of all property types, the office sector faces the steepest refinancing challenges as office properties are struggling with occupancy and financial performance in the post-pandemic era." (Trepp CRE Research Report)
The increase in modifications follows a joint policy statement from federal regulators in June that encouraged financial institutions to work with borrowers on pending loan maturities. (Agencies' joint statement, June 29 and National Law Review, July 9)
Roundtable Advocacy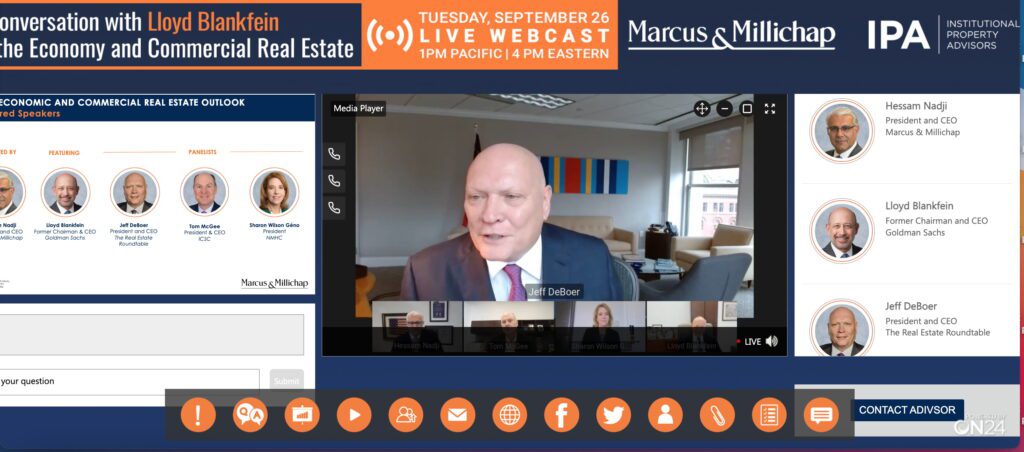 In March, The Roundtable had originally requested that federal regulators accommodate commercial real estate borrowers and lenders as the industry continued to endure a difficult time of historic, post-pandemic transition—and enthusiastically welcomed the Agencies' subsequent, joint action. (Roundtable Weekly, June 30 and Roundtable letter to regulators, March 17)
During a Sept. 26 Marcus & Millichap webcast, Roundtable President and CEO Jeffrey (above) said, "We're seeing some impact. Trepp put out a report about loan modifications and extensions. Time is the most important aspect for the most challenged part of our industry, office. We have to let time settle in and let businesses and employers determine how they want to use office space going forward."
Additionally, bipartisan legislation (H.R. 5580) introduced in the House last week would reduce the tax burden on a borrower that can arise when a troubled commercial real estate loan is modified as part of a debt workout. The Tenney-Higgins bill would build on existing tax provisions by effectively deferring cancellation of debt (COD) income. (Roundtable Weekly, Sept. 22)
The legislation, introduced by Reps Claudia Tenney (R-NY) and Brian Higgins (D-NY), could help smooth the transition to a healthy and stable post-pandemic real estate market. The Roundtable's DeBoer was quoted in support of the House legislation by GlobeSt, Connect CRE, and Commercial Observer.
Capital and credit policy issues facing CRE, especially office assets, will be among the topics discussed during The Roundtable's Oct. 16-17 Fall Meeting (Roundtable-level members only) in Washington.
#  #  #