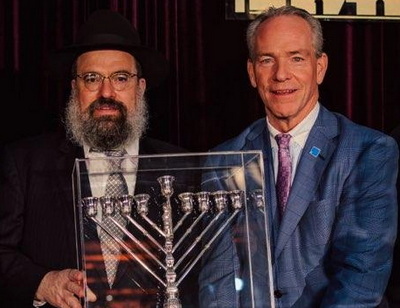 Roundtable Chair John Fish (Chairman and CEO, Suffolk), right, was honored this week with the Lamplighter Award from the American Friends of Lubavitch (Chabad), along with Senate Majority Leader Chuck Schumer (D-NY) and Kurt Newman, President and CEO of Children's National Medical Center. (Photo: Mr. Fish with Rabbi Levi Shemtov, left. | Watch Mr. Fish's powerful comments)  
Lamplighters
The American Friends of Lubavitch (Chabad) is a part of the largest network of Jewish educational, cultural and humanitarian institutions in the world, with branches in all 50 states and over 100 countries on six continents.
The annual Lamplighter Awards honor exceptional communal, political, corporate and academic leaders. Several hundred people attended the Oct. 24 event reception and dinner, including 8-12 U.S. Senators; House Democratic Leader Hakeem Jeffries (D-NY) and several House members; 20 Ambassadors from foreign nations; and seven family members of hostages now held in Gaza.
Roundtable Leaders' Comments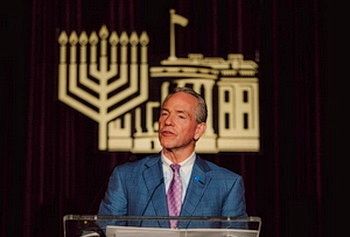 Mr. Fish commented, "It pains me to discuss the reality that many of us have discussed here this evening. There is, unfortunately, a rise in anti-Semitism and hate in the world today. A reality that played out tragically several weeks ago." The Roundtable issued an Oct. 13 statement condemning the violence and urging humanitarian aid.
Roundtable President and CEO Jeffrey DeBoer, above, gave introductory remarks as the co-chair of the event, stating that each one of the three honorees exemplified a unique combination of leadership and optimism. DeBoer added that Mr. Fish is a selfless person who provides The Roundtable with steady guidance, positive advice, and consistent support in his role as Chairman of the organization.
DeBoer asked the Lamplighter audience "… for a moment of silence to internally pledge that each of us will do our part, every minute, hour and day to reject evil, to help those in need, and to embrace the goodness of ethnic and religious diversity worldwide." (Read DeBoer's remarks and watch Mr. Fish's comments)
# # #