The Real Estate Roundtable joined a coalition of 17 national trade associations in a Nov. 14 letter to the Federal Reserve, urging regulators to repropose a sweeping set of proposed rules—known as the "Basel III Endgame"—that would increase capital requirements for the nation's largest banks. Meanwhile, the nation's top federal banking regulators testified this week before congressional committees, where they faced stiff bipartisan opposition to the proposal. (U.S. Chamber of Commerce-led coalition letter, Nov. 14 and Axios, Nov. 16)
Bipartisan Opposition
In July, the regulators jointly approved the 1,100-page proposed Basel III rulemaking, which aims to guard against potential risk by increasing capital requirements for banks with at least $100 billion in assets. The proposal could have a significant impact on available credit capacity for commercial real estate transactions, as well as undermine liquidity and economic growth. (Roundtable Weekly, Nov. 10 and CQ, Nov. 15)
Sen. Chris Van Hollen (D-MD) stated that higher capital standards could impede investment in clean energy while Sen. Bob Menendez (D-NJ) emphasized that higher capital requirements pose a risk for mortgage loans to low-income and minority buyers. (Axios, Nov. 14)
Before the hearings, Senate Banking Committee Ranking Member Tim Scott (R-SC) led 38 of his colleagues in a Nov. 13 letter to the Federal Reserve, Federal Deposit Insurance Corporation (FDIC), and Office of the Comptroller of the Currency (OCC) to withdraw the Basel III Endgame proposal.
House Financial Services Committee Chairman Patrick McHenry (R-NC) and Subcommittee on Financial Institutions and Monetary Policy Chairman Andy Barr (R-KY) also sent letters to the regulators on Nov. 14, claiming the Basel III regulations would put the nation's financial system at a competitive disadvantage.
More Feedback for Basel III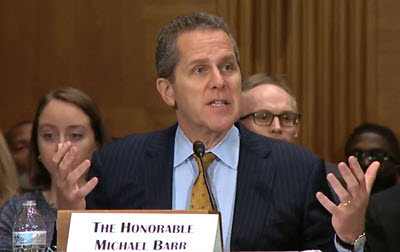 During the hearings, the Fed's Vice Chair for Supervision Michael Barr defended the proposals, yet responded that regulators are "quite open to comment, and we want to improve the rule before we get to a final rule."
On Oct. 20, the Federal Reserve, FDIC, and OCC announced an extension of the comment period on the Basel capital proposal from Nov. 30, 2023 to Jan. 16, 2024. The agencies also launched a quantitative impact study to clarify the estimated effects of the proposal, with the data collection deadline also due Jan. 16.
Since the deadline for stakeholder comments is the same day as the impact study's final data collection deadline, there is broad concern that the regulators' failed to provide industry participants with an opportunity to assess and comment on any of the Agencies' collected data. (Roundtable Weekly, Oct. 27)
The Roundtable's Real Estate Capital Policy Advisory Committee (RECPAC) discussed the capital requirements proposal during its Nov. 8 meeting in New York. RECPAC welcomes Roundtable membership input as it works on a Basel III comment letter due in January. (Contact Roundtable Senior Vice President Chip Rodgers)
# # #