The Real Estate Roundtable's 2023 Annual Meeting this week included policy discussions with national lawmakers on issues affecting commercial real estate, including market conditions and pressures on the office sector, tax policy, sustainability issues, and evolving security threats. Additionally, a special industry tax panel focused on incentives for property repurposing, community revitalization, and housing.
Speakers & Policy Issues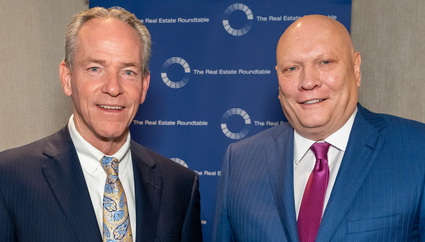 Roundtable Chair John Fish (Chairman and CEO, SUFFOLK), left, and Roundtable President and CEO Jeffrey DeBoer, right, launched the meeting, which included the following speakers:
Sen. Kyrsten Sinema (I-AZ)
Member, Senate Committee on Banking, Housing and Urban Affairs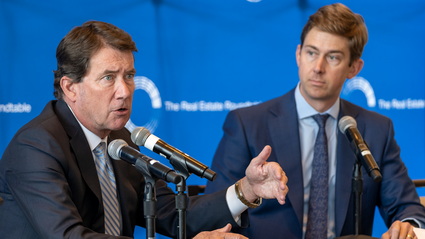 Sen. Bill Hagerty (R-TN), left
Member, Senate Committee on Banking, Housing and Urban Affairs
and Roundtable Board Member Geordy Johnson (CEO, The Johnson Group)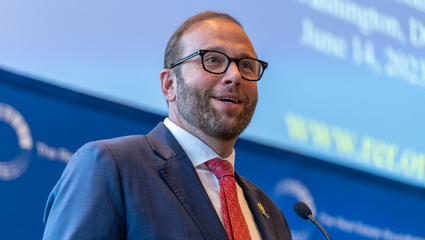 Jason Smith (R-MO), Chairman
House Ways and Means Committee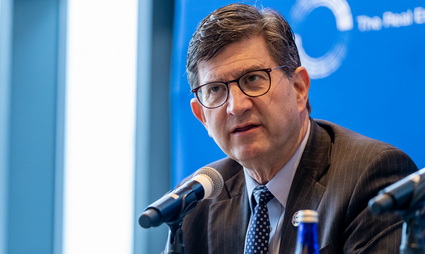 Brad Schneider (D-IL), Member
House Ways and Means Committee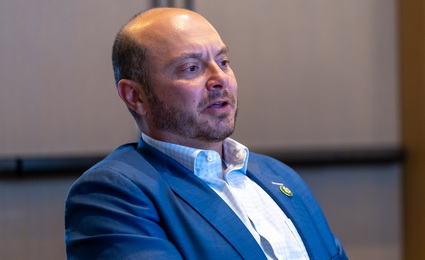 Rep. Andrew Garbarino (R-NY), Chairman
House Homeland Security Subcommittee on Cybersecurity and Infrastructure Protection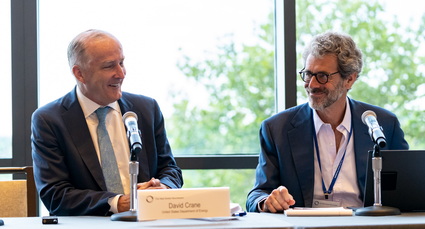 David Crane, left, Department of Energy Under Secretary for Infrastructure, and
Roundtable Board Member Tony Malkin (Chairman, President and Chief Executive Officer, Empire State Realty Trust, Inc.)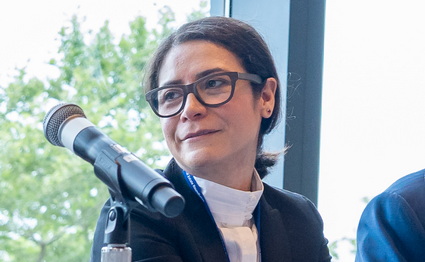 Alejandra Nunez
Environmental Protection Agency (EPA)
Deputy Assistant Administrator, Office of Air and Radiation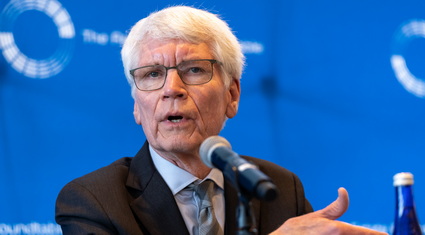 Thomas Barthold
Chief of Staff, Joint Committee on Tax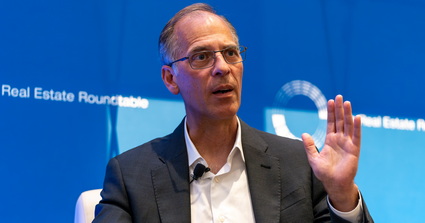 Mark Zandi, Chief Economist, Moody's Analytics
Roundtable Policy Advisory Committees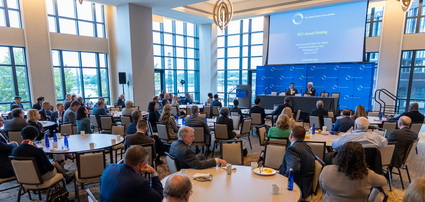 The Roundtable's policy advisory committees also met on June 13-14 to analyze policy issues
with industry experts, policymakers, and their staff, including:
Joint RECPAC-Research Committee Meeting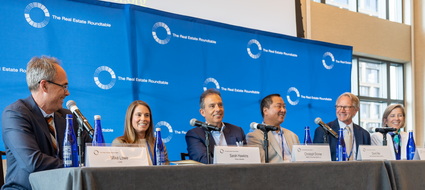 The Roundtable's joint RECPAC and Research Committee meeting included a real estate capital market panel with CRE leaders. [Left to right in photo: panel moderator Mike Lowe (Co-CEO, Lowe); Sarah Hawkins (CEO, East Region, Hines); Christoph Donner (Chief Executive Officer, America, PIMCO Prime Real Estate LLC); David Mei (Vice President, InterContinental Hotels & Resorts); Gregg Gerken (Head of Commercial Real Estate, TD Bank); and Kathy Farrell (Head of Commercial Real Estate, Truist).
A separate presentation on the economy and CRE conditions was given by CBRE's Christopher R. Ludeman, Global President, Capital Markets and Spencer Levy, Global Client Strategist & Senior Economic Advisor.
Tax Policy Advisory Committee (TPAC)

Speakers at the TPAC meeting included key House tax policy leaders (see photos in previous story section) and a panel on "Debt Workouts / Tax Incentives for Property Repurposing, Community Revitalization, and Housing." [Left to right in photo above: Adam Feuerstein (Real Estate Tax Technical Leader, PwC); David Downey (President & CEO, International Downtown Association); Victoria Honard (Legislative Director, Rep. Suzan DelBene (D-WA); and Phuc Tran (Vice President, Asset Management, Jair Lynch Real Estate Partners)]
An additional panel on the "Tax Legislative Outlook and Agenda with Senior Republican Tax Staff" featured a discussion with Payson Peabody (Tax Counsel, House Ways and Means Committee Majority Staff) and Michael Gould (IRS Detailee, Senate Finance Committee) that was moderated by Russ Sullivan (Brownstein Hyatt Farber Schreck).
Sustainability Policy Advisory Committee (SPAC)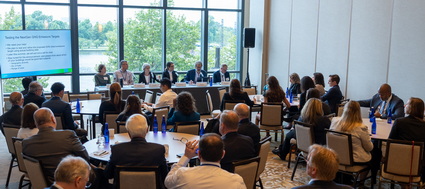 SPAC members heard from featured speakers David Crane and Alejandra Nunez (see photos in previous section above), along with updates from EPA senior staff on agency projects affecting CRE assets, and a presentation of an online marketplace for Inflation Reduction Act energy tax credits. (SPAC meeting agenda)
Homeland Security Task Force (HSTF)

A joint session of The Roundtable's HSTF and Risk Management Working Group met with Rep. Andrew Garbarino (R-NY) and were briefed by officials from the Department of Homeland Security on efforts to enhance information sharing with the CRE industry.
Next on The Roundtable's FY2023 meeting calendar is the Fall Meeting on October 16-17 in Washington, DC. This meeting is restricted to Roundtable-level members only.
# # #