Roundtable members are among the commercial real estate partners recognized in the U.S. Department of Energy's (DOE) Better Buildings Initiative 2023 progress report released on Monday. This voluntary public-private partnership with more than 900 participating organizations has collectively saved $18.5 billion through energy efficiency improvements, and cut carbon dioxide emissions by nearly 190 million metric tons, since its launch in 2011. (DOE's Better Buildings Initiative Report and PoliticoPro, Oct. 23)
DOE's CRE Partners
This week's Progress Report from DOE shows that more than 165 partners from various industry sectors who participate in its separate Better Climate Challenge have committed to reducing greenhouse gas (GHG) emissions (scope 1 and 2) by at least 50% over 10 years without the use of offsets. The report's outstanding GHG Emissions Reduction Goal Achievers include companies led by RER members.
The Real Estate Roundtable and several of its partner real estate organizations—including the National Multifamily Housing Council (NMHC), American Hotel & Lodging Association (AHLA), Building Owners & Managers Association International (BOMA), Pension Real Estate Association (PREA), and Urban Land Institute (ULI)—are noted in the report as Industry Organization Partners.
U.S. Secretary of Energy Jennifer M. Granholm said, "To meet President Biden's ambitious climate goals, the public and private sector need practical pathways to reduce emissions while cutting costs—and that's exactly what they get from DOE's Better Building Initiative." (DOE news release and the report's Commercial Real Estate Sector Spotlight)
Tools and Best Practices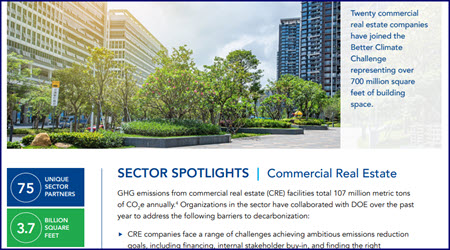 DOE's partners represent almost every sector of the American economy: nearly 30 of the country's Fortune 100 companies, nearly 20 of the top 50 U.S. employers, 14% of the U.S. manufacturing energy footprint, and 13% of total commercial building space, as well as more than 90 state and local governments.
The DOE report also provides case studies for collaborations across sectors to access insights, strategies, and through the agency's "Decarbonization Resource Hub."
DOE's Better Buildings Initiative website provides extensive resources on the agency's wide-ranging effort to partner with leaders in the public and private sectors to make the nation's commercial buildings, industrial plants, and homes more energy-efficient by accelerating investment and sharing successful best practices.
# # #