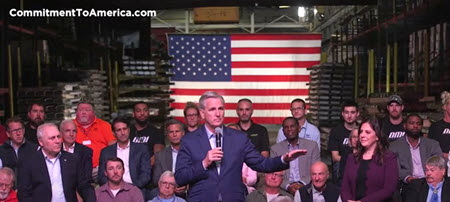 In advance of the November midterm elections, House Republican Leader Kevin McCarthy, above, and the House GOP Conference released their Commitment to America today in Pittsburgh. The platform includes forward-looking tax and economic policy proposals that, if enacted, would impact commercial real estate in important ways. (Document and video, Sept. 23)
GOP Tax Proposals
The Commitment to America is the product of months of work by task forces created by the House Leader to develop a policy agenda to unify House Republicans. The tax proposals are outlined in a document entitled "Growth Through Innovation" developed by Republicans' Jobs and the Economy Task Force. (Bloomberg Sept. 23; ABC News Sept. 22)
The proposals are aimed at providing more tax relief to individuals and small businesses. Proposals affecting real estate include:

Permanently extending 20% deduction for pass-through business income enacted in 2017,
Enacting additional estate tax relief

for family-owned businesses, and

Extending rules that facilitate the full deductibility of business interest expense.
Other areas of focus include middle class tax relief, increasing tax incentives for R&D, bringing jobs back to the United States, and tax simplification.
TCJA Tax Cuts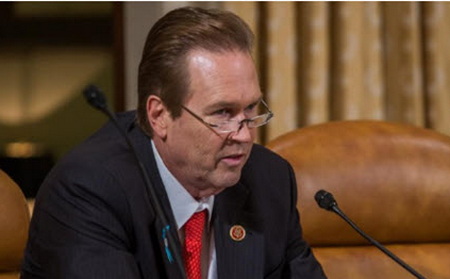 Senior Ways and Means Republican Rep. Vern Buchanan (R-FL), above, introduced legislation this week to make permanent tax cuts for individuals and small businesses enacted as part of the Tax Cuts and Jobs Act (TCJA) of 2017. The Buchanan legislation was endorsed in House Republicans' Commitment to America released today. (Buchanan news release, Sept. 21)
The TCJA Permanency Act (H.R.8913) also includes several technical fixes. Without Congressional action, 23 different provisions of the 2017 Republican tax law are set to expire after 2025.
The current deduction for qualified business income (Section 199A) was part of the TCJA. Designed to ensure pass-through businesses received tax relief alongside the large tax cut for public corporations, the provision allows real estate and other pass-through businesses to deduct up to 20% of their net business income."
Buchanan, the most senior member on the House Ways and Means Committee, is running to become the next top Republican on the powerful tax policy panel. (The Hill, April 15, 2021)
CRE Policy Webinars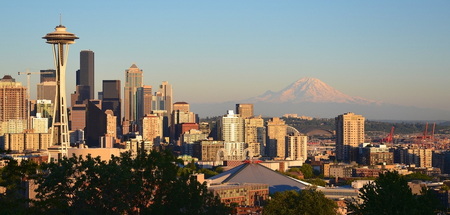 Desiderio will also participate in another Sept. 28 virtual briefing on the Inflation Reduction Act's clean energy tax incentives, hosted by the Urban Land Institute (ULI registration). The webinar features members of The Roundtable's Sustainability Policy Advisory Committee (SPAC)­­—Immediate Past SPAC Vice Chair Dan Egan (Managing Director, Real Estate ESG – Americas, Blackstone), Suzanne Fallender (VP Global ESG, Prologis), and ULI EVP Billy Grayson.
# # #